EFFLUENT TREATMENT PLANTS
This necessitates timely and adequate treatment of the wastewater before being disposed off into the environment. Almost all the organic constituents from different industries wastes are easily biodegradable. Thus, the wastewater is amenable to biological treatment, by both aerobic and anaerobic. Our treatment technology is compatible to treat sophisticated effluent matches the international and national standard norms which are odorless, compact & sturdy design and quick to install.
Treatment Process:
1. Physical Treatment
Manual/Mechanical Coarse Screen.
Manual/Mechanical Fine Screen.
2. Chemical Treatment
Coagulation.
Flocculation.
Flocculation.
3. Biological Treatment
Anaerobic Treatment
Aerobic treatment.
MBBR & MBR.
EAT/ASP.
SBR.
4. Tertiary Treatment
Dual Media Filter/ Sand Filter.
Activated Carbon Filter.
Recycling system (RO Plant).
5. Sludge treatment
Hydraulic Filter press.
Belt filter press.
Centrifuge.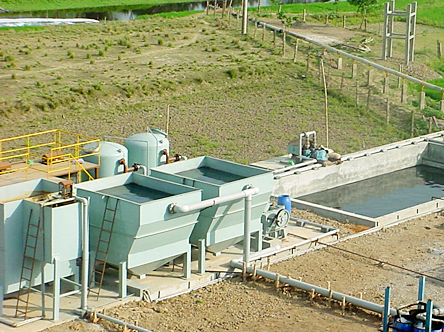 Main advantages of packaged plants are:
Compact and sturdy design
Odorless
Low power consumption
Easy maintenance
Rapid installation
All above technologies have their own advantage and disadvantage and they are selected on the basis of raw effluent characteristic. Hitech also provide zero liquid discharge system as per client requirement.
---
SEWAGE TREATMENT PLANTS
We are prominent manufacturer of Sewage Treatment Plants that are extensively used for treating sewage before dispersing it into rivers and oceans. We offer both customized and standardized sewage treatment plants for municipal corporations, housing societies, commercial complexes, SEZs, hotels and hospitals. These systems reduce lifetime costs and occupy 1/5th of the space of any conventional system. With options of installations in basements, on terraces, recycling, complete automation and connections to the municipal lines. These plants are completely rust free, consume less power and possess longer service life.
Features :
Standard models capacity: 10 up to 500 m3/day in single unit
Smaller plants capacity: 1 m3 per day
REVERSE OSMOSIS SYSTEMS
We are providing quality certified Reverse Osmosis Plant that is designed using advance latest methods, which include analytical monitoring and other equipment. Our plants are designed on advanced formulations and comprise RO membrane cleaners, scale inhibitors and antiscalants, corrosion inhibitors, biocides, de-chlorinators and flocculants. Our advanced formulations have been made specifically for the international desalination and reverse osmosis sectors and offer better cost, safety, environmental and operational performance benefits over traditional products. Moreover, we also offer in-field analytical instruments and laboratory based support services including silt density index (SDI) monitoring equipment, microbiological testing and membrane autopsy and analysis services.
Features :
Consistent operation
Smoothness in operation
Ruggedly constructed
Enhanced performance
Increased solid removal
Provides process stability
Energy efficient
DEMINERALISATION PLANT
We are providing supreme quality Demineralisation Plant that is extensively demanded in making water drinkable and free from toxic contaminants. In this, raw water is passed via two small polystyrene bead filled beds. While the cations are exchanged with hydrogen ions in first bed, the anions are exchanged with hydroxyl ions, in the second one. Here, ion exchange is a rapid and reversible process in which impurity ions present in the water are replaced by ions released by an ion-exchange resin. A demineralization water system produces mineral free water by operating on the principles of ion exchange, degasification and polishing. Demineralized water system finds wide application in the field of steam, power, process, and cooling. The impurity ions are taken up by the resin, which must be periodically regenerated to restore it to the original ionic form.
Zero Liquid Discharge
We have mastered advanced technologies in Effluent and Sewage Treatment Plants by using modern technologies to reduce load in environment by installing zero discharge plants.
Zero Liquid systems eliminate liquid waste streams from the plant and produce good quality pure water for reuse. Certain factors make water a valuable resource and therefore it is considered a key manufacturing resource. Hence installing a ZLD system would maximize water recycles.
The ZLD system provides an economical solution to all industries which have to compete with local water availability, water costs and wastewater discharge criteria.
The ZLD system combines a number of waste water treatment technologies, including sanitary collection, biological water treatment, microfiltration membrane softening, RO water recycling and evaporation ponds. These systems recycle waste streams such as:
Boiler blow down
Cooling Tower blow down
RO reject
DM regeneration waste
Softener regeneration waste
Filter backwash
Plant drains
Zero Liquid Discharge System is a fully integrated automated system incorporating a mechanical evaporator and solids de- watering system like centrifuge. We can recover 95 to 99 percent of water wasted as purity distillate. High purity distillate produced in this system can be used for cooling tower or boiler makeup water.
Notably, the ZLD reduces water supply costs given that industries no longer purchase fresh water for manufacturing.
We are reliable, have and offer cost-effective systems that get you maximum benefits like -
Energy efficiency
Ease of operation
Maximum recycle
ULTRA FILTRATION PLANT
IWT is manufacturer of world class Ultra Filtration Plant which provides tangential flow pressure driven filtration process that helps in efficiently separating particles on basis of their molecular sizes. We are providing ultra filtration plants that are reusable and cleanable with standard chemicals and manufactured using advanced process technology with the purpose of removing micro bacterial counts. The system performs as advanced industrial filtration system and finds application as pre-treatment step to the next in step reverse osmosis process.
Features :
Built in safety features for protecting high pressure pump membranes
Fully assembled and tested before dispatch
Compact units with robust mild steel powder coated frames
Economical & efficient way of removing dissolved solids
Easy to startup and use
Can handle fluctuation of total dissolved solids removal
Range of models and capacities
On-line device for monitoring treated water quality
Easy availability of spares and service
---
Applications :
Removing suspended solids, bacteria, all particulate matter, viruses
Clearing of colloidal material
Removal of high molecular weight organic
Provides hygienic drinking water to hotels, restaurants, hospitals and residence areas
Meeting
water purity standards as required in hospitals for use in dialysis units
---
---
---
WATER SOFTENER SYSTEMS (With salt recovery also)
IWT offers online water and air pollution control monitoring device to optimize your processes and reduce pollutants.
Dilution extractive products clean the sample of process emissions to be transported for analysis by dilution ensuring a cleaner dryer gas. The cleaning and sample conditioning is in one and therefore there is far less maintenance on your instrumentation.
Direct Extractive technology draws the raw sample of process emissions for analysis from the stack and it is transported to the analyser for analysis. In most cases some conditioning of the sample is required to remove water vapor and particulate matter. This process ensures an unchanged and non altered gas sample.
In-situ or in place measurement happens at the source of your process emissions and the sample never leaves the stack. In effect, this is also remote sensing, because the sample never touches any sampling apparatus. This will ensure a rapid response in measurement and a rapid response in your process control.
Open Path monitoring is based on the principle of transmitted infrared light to detect and quantify the gas of interest. You can be assured that sample taken when using open path monitoring is very representative of the whole sample.
The Mercury Freedom System utilises advanced cold vapor atomic fluorescence technology which enables provision of continuous sample measurement with no additional gases or accumulations required.  This is true, real-time monitoring which required no batch processing and high sensitivity allows for greater dilution ratios.
As per latest CPCB guidelines, it is now mandatory to monitor online continuous Stack Emission Monitoring Systems (CSEMS) in 17 categories of highly polluting industries and in Common Hazardous waste and Biomedical waste incinerators for the parameters(industry/sector specific parameter) mentioned in the consent to operate/authorisation not later than by March 31,2015.
| Sl. No. | Category | Emission Parameters |
| --- | --- | --- |
| 1 | Aluminium | PM, Fluoride |
| 2 | Cement | PM, NOx, SO2 |
| 3 | Distillery | PM |
| 4 | Chlor Alkali | Cl2, HCl |
| 5 | Fertilizers | PM, Fluoride, Ammonia |
| 6 | Iron & Steel | PM, SO2 |
| 7 | Oil & Refinery | PM, CO, NOx, SO2 |
| 8 | Petrochemical | PM, CO, NOx, SO2 |
| 9 | Power Plants | PM, NOx, SO2 |
| 10 | Zinc | PM, SO2 |
| 11 | Copper | PM, SO2 |
---
Water pollution monitoring system
Backed by more than ten years of expertise, the UVpcx is a state- of-the- art water monitoring system specially designed for high reliability, low operating cost and small size.
Ultra-Violet spectroscopy, the most reliable and stable method, is used to analyze specific parameters like ammonia, COD, BOD, TOC, hydrocarbons, nitrate and fluorescent tracers.
Optical methods are also used for turbidity, TSS and color while electrodes are used for pH, dissolved oxygen and conductivity.
Based on a modular design, the UVpcx can be configured as:
Mono-parameter system: on many process control applications, only one parameter is critical. In this case, the UVpcx offers a cost-competitive solution.
Multi-parameter system: water chemistry is complex and to meet there gulations for drinking water , sewage and wastewater, many parameters have to be taken into account.
Designed in compliance with CE electromagnetic standards and using a watertight box, the UVpcx is the ideal instrument for industrial applications such as:
• Municipal water treatment plants
• Raw water treatment plants
• Industrial effluents monitoring
• River monitoring
• Chemical, oil and food industries
Standard methods and on-line analysis
Standard methods are based on traditional and well-known chemical methods that are convenient for laboratory use but not applicable for on-line analysis.
The automation of such traditional methods leads to a complex system that would require high maintenance and have a poor reliability. Moreover, the cost of reagent is prohibitive and some of these are dangerous pollutants.
Also, the measuring time is generally not compatible with process control.
To overcome the above hindrances, and for stable, fast and reliable measurements, the UVpcx uses optical methods for specific parameters like ammonia, COD,BOD, TOC, hydrocarbons, nitrate, fluorescent tracers and color.
There is no drift in measurements as compared to the electrode based system.
On some applications, the results on UVpcx can be more accurate than those obtained by standard colorimetric methods that are subject to several interferences, for example chloride for nitrate and COD analysis.